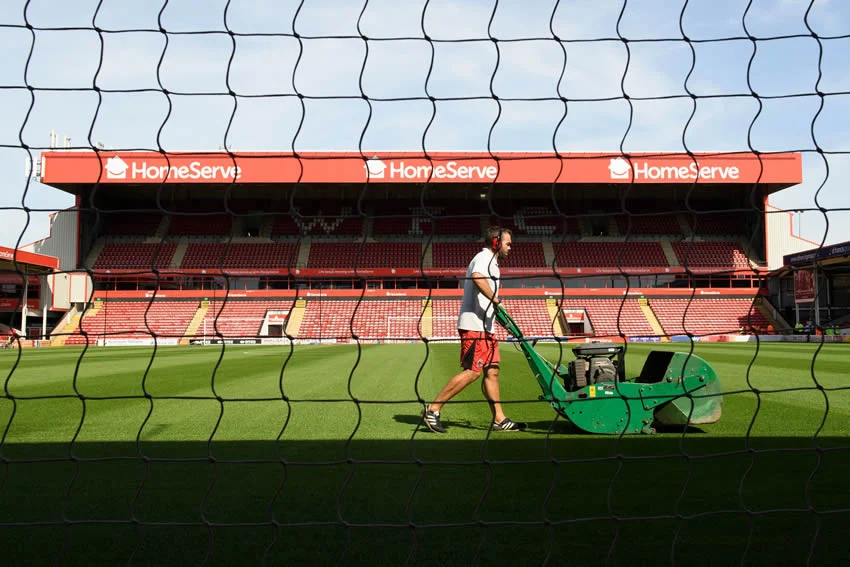 Head groundsman Paul Mason has spoken to club journalists and offered an update on how the works on the playing surface at Banks's Stadium and training pitches at the club's Essington Training Ground are coming along.
Paul, a club servant - who has been one of the fixtures at the club for over twenty-seven years - received the Long Service Award alongside Michelle Draisey, Ian Wood, Phil Baker, Phil Cotterill, Tony Bailey, Eddie Padmore, and Cliff Jones at the end of the season.
Mason has overseen several weeks of work since the Saddlers' season came to an end in May, revealed just some of what has taken place with the pitch being reseeded along with plenty of much-needed drainage being added in Essington.
Speaking via the club's
official website
, Paul said;
"The entire stadium pitch has been koro'd, sanded and over seeded.
"The reason why we lift the entire playing surface up is so that we can get rid of all of the weaker grasses that have grown through. We lifted the old surface up in the middle of May, and it's now looking really good.
"We've had some great growing weather and have also invested in additional sprinklers on the main pitch, so by the time our first pre-season friendly comes round; it will be in show-piece condition."

Mason went on to talk about the work taking place at Essington as officials look to remedy the long-running drainage issues which have forced the club to abandon the facility during wetter and colder months as the surface often becomes too soft to train upon.

Paul continued; "When we first moved to the training ground, we had pipes put underground for drainage with around 500 millimetres of gravel put on top and then a layer of sand or soil on top of that.
"On top of those, then you would have other drainage bands that would cross over those.
"With the winters getting worse and worse and it just getting wetter and wetter, the drainage unfortunately hasn't been able to cope that well with the amount of water we have been getting.

"We have banded the entire area where our two main pitches and warm-up areas are at the training ground.
"These bands will link in to the main drains and eradicate the issues we've had in recent years.

"We are continuing to work tirelessly to improve everything at the training ground to make sure we have no further disruptions this season, and I am thankful to the club for the money they have invested in the training ground and the pitch this year."