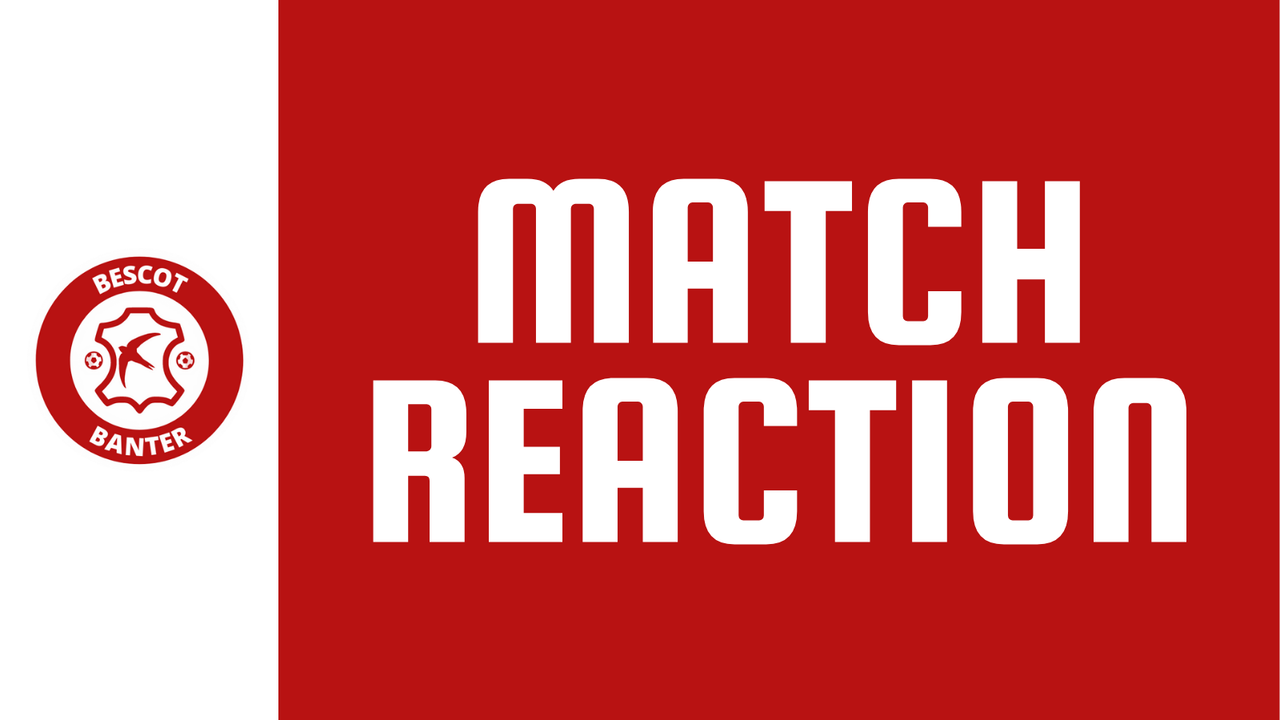 Speaking after his side lost for the second time in as many games, as Bristol Rovers came back from a goal down to take all three points, Taylor admitted to being disappointed to see his side struggle to prevent goals from set pieces.
The Saddlers went ahead via on-loan Huddersfield Town forward Kieran Phillips, but went on to concede two second-half goals as Connor Taylor and Sion Spence scored to snatch all three points.

The result, which saw Joey Barton's side secure their first away victory since December 2020, came via well-worked set-pieces as Walsall's defensive weakness was laid bare once again.

The Saddlers will end this round of fixtures just above the League Two drop zone, and with the majority of conceded goals coming via set plays, Taylor admitted it was 'unacceptable'.

Speaking to the assembled media, Matthew said; "We've conceded thirteen goals and eight of them have been from set plays.
"From my perspective, you always look at yourself and your coaches first. We spent two days last week working on set plays, so we need to make sure we're better for the next game.
"We weren't cut open by the opposition, but players have not done their jobs from set plays, and it's cost us. It's quite obvious it's not good enough, and it's costing us points."

Walsall started the game slowly and were possibly lucky to lead at half-time, but old habits - namely a lack of awareness during dead-ball situations - once again played their part as they lost to another relegation rival.

The bad news wasn't done there either, as second-half substitute Emmanuel Osadebe was forced off through injury before goalscorer Phillips also left the field, with Taylor confirming he had a tight hamstring.

Matthew continued; "For the first fifteen minutes, we probably, again, gave the opposition too much respect.
"But we sorted that and came on strong in terms of our influence on the game. We went in at 1-0, and I was expecting the players to feel confident.
"We started again, though, a little on the back foot – I don't know why. Brendan rolled his ankle and Kieran had a tight hamstring.
"Osadebe has been tackled, and I can't believe it wasn't at least a foul. It looks a nasty one for him.
"There was a lot of disruption, but that shouldn't have caused the issues it did, where players are not doing their jobs from set plays.
"You can't concede from two set plays in the way we did. It's an issue which we had identified and, obviously, we need to practice more."

A clearly frustrated Taylor added; "The result wasn't good enough. In any league, set plays are hugely important.
"You've got to do your job for and against, and we didn't do that as a group. If we continue to make errors like we did, we're going to win less matches."