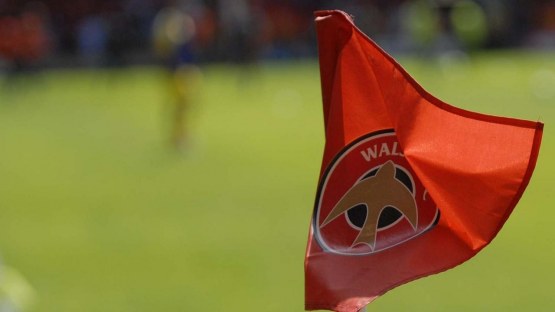 Walsall's first-team squad has returned to training ahead of the 2021/22 League Two campaign.
With four new faces already confirmed, the club is expected to confirm the arrival of several more players before the Saddlers take on Tranmere Rovers in early August.
Taking part in gym sessions, passing drills, and the usual running drills, the team has started to prepare for the coming campaign and will be keen to improve upon last season's worst ever finish.
The club has undergone major change over recent weeks with the appointment of Technical Director Jamie Fullarton, Head Coach Matthew Taylor, and First-Team Coach Neil McDonald.
Head Coach Taylor has already expressed his delight at the prospect of fans returning to training and will no doubt be delighted as the team takes a major step towards the new season.
You can see images of the various training sessions, below.

🤩 The lads are back!

We'll be bringing you photos throughout the day as the players return for preseason training pic.twitter.com/Xfg3ODOQTZ

— Walsall FC Official (@WFCOfficial) June 28, 2021
🏋️‍♂️ The first set of lads are in the gym pic.twitter.com/jW2pDcUMwm

— Walsall FC Official (@WFCOfficial) June 28, 2021
😁 Someone is happy to be back! pic.twitter.com/mSG9fPRTIT

— Walsall FC Official (@WFCOfficial) June 28, 2021
🏋️‍♂️ The pre-habilitation session is in full flow with everyone now in the gym getting warmed up pic.twitter.com/ZOBVdLLKJX

— Walsall FC Official (@WFCOfficial) June 28, 2021
👀 Out on the grass pic.twitter.com/U2FV27DHHn

— Walsall FC Official (@WFCOfficial) June 28, 2021
⚽️ Time for a small passing exercise pic.twitter.com/UgpOEr7jrZ

— Walsall FC Official (@WFCOfficial) June 28, 2021
🏃‍♂️ Short sharp burst! pic.twitter.com/QbS0nbkXak

— Walsall FC Official (@WFCOfficial) June 28, 2021
June 28, 2021
😁 All smiles and hard work from @JossLabadie pic.twitter.com/PBr6IweIZk

— Walsall FC Official (@WFCOfficial) June 28, 2021
👀 Plenty of time of the ball for Wilko this morning! pic.twitter.com/qfnxoDXPfI

— Walsall FC Official (@WFCOfficial) June 28, 2021
🏔️ The man mountain himself, @MontheManny! pic.twitter.com/X8lmQgvMbw

— Walsall FC Official (@WFCOfficial) June 28, 2021
🏃‍♂️💨 @AlfieBates4 pic.twitter.com/2ZSC6eedNU

— Walsall FC Official (@WFCOfficial) June 28, 2021
👑 Paddy 👑 pic.twitter.com/IqMfgDfYvO

— Walsall FC Official (@WFCOfficial) June 28, 2021
😍 RORY 😍 pic.twitter.com/dA3a6i551H

— Walsall FC Official (@WFCOfficial) June 28, 2021
😎 H pic.twitter.com/OOiy6phtcw

— Walsall FC Official (@WFCOfficial) June 28, 2021
🤩 The boys! pic.twitter.com/StrLPgIuD9

— Walsall FC Official (@WFCOfficial) June 28, 2021