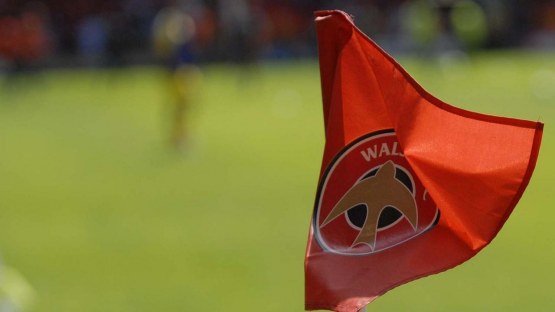 Walsall chairman Leigh Pomlett has issued a video statement as he seeks to provide fans with some of the reasons behind the surprise departure of manager Darrell Clarke to near-rivals Port Vale.
Mansfield-born Clarke the move to Stoke-on-Trent on Monday and, speaking at a recent press conference, insisted he believes the switch offers him a higher chance of success, as Vale are looking to splash the cash.
Pomlett, who has sought to keep fans updated with regular updates throughout the Covid-19 pandemic, insisted the decision to agree to the move was not a financial one as the Walsall-born chairman was keen to switch to manager who was committed to the club.
Leigh also sought to clarify several other issues raised by Clarke's departure as he and the club now get behind new Head Coach Brian Dutton who, despite joining the club alongside Clarke, is staying on, and looking to help the club progress.
Speaking via the club's official
YouTube Channel
, Leigh said;
"This is not a financial decision. We don't need to change managers and we were not driven to let Darrell go to Port Vale based on financial compensation.
"It's nonsense. I've heard people think it's associated with the January window sales and the fact we lost two of our best players had de-stabilised Darrell Clarke, again absolute nonsense.
"Darrell Clarke was very much part of those decisions. The situation became unstable during the weekend and we became aware of interest from Port Vale. I've learnt as chairman that if someone doesn't want to play for you or wants to move on, find a way.
"Unless they're committed to the club, particularly the manager of the team, then find a way of moving on. We had a frank and emotional conversation where it became clear to me that he was ready for change. Once anyone says that, that's it, they have to move on.
"There's no going back, you need unwavering commitment to the club going forward and I wasn't getting that. It was mutual in the end.
"He decided he needed a new challenge and I decided we needed a change. I am disappointed and somewhat angry about the situation, but that soon goes and life moves on."
Dutton, who was Clarke's assistant alongside Marcus Stewart before the well-travelled striker opted to leave, has been given the job until the end of the season but Pomlett has admitted his stay could be extended.
Speaking ahead of this evening's League Two clash with Cheltenham Town, Pomlett revealed that he had held a mock interview with Dutton and believes he is the right man to take the team forward.
The chairman continued; "We have to find a solution to the problem. We have in the shape of Brian Dutton in the short term for this season and who knows at the end of the season what we'll do.
"Brian is someone I have enormous time for. A young but up-and-coming coach. I like his style and moral compass. With the backroom team staying the same as they were, there's still a lot of stability in the club and I like what I see.
"I've been mentoring Brian Dutton for six months to one day take the place of Darrell Clarke. In this very office two weeks ago Stef Gamble and I did a mock interview with him to see whether he was ready or not.
"That's just a sensible management thing to do as managers do come and go. We were very pleased and very impressed with him.
"He is a top class coach and is committed absolutely. It's not a decision I've made in panic, it's a decision we've been preparing for as a club for a number of months."