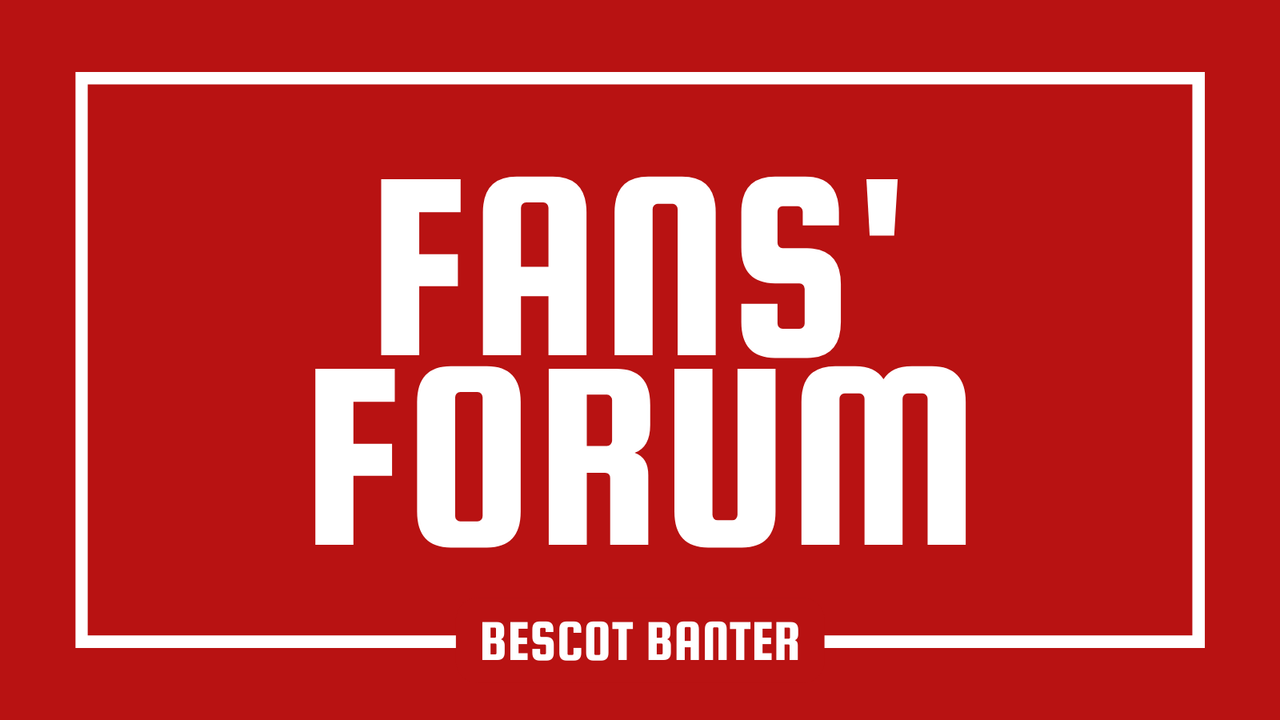 Walsall co-chairman Benjamin Boycott and co-chairman Leigh Pomlett were joined by Chief-Executive Stefan Gamble as they answered a plethora of supporters' questions.
PORTIONS OF THE BELOW HAVE BEEN REORDERED AND EDITED FOR CLARITY
Taking place at Poundland Bescot Stadium, there was a wide variety of topics covered as fans sought to get to know their new ownership group as well as find out some of the plans for the future.
The evening began with opening statements by both Leigh Pomlett and Benjamin Boycott, with Polett saying, in part; "The Trivela Group takeover is the end of a huge amount of work to pull this off. I'm very pleased and excited.
"Tonight is about the future of the club and the critical part Trivela will play in that."
Boycott added; "It's a pleasure to be here and one small part of this club. We believe in long-term value investing, in things that will stand the test of time.
"This is an outstanding club with outstanding tradition and support. Thank you for the welcome. Everybody has been really kind. It feels like a family and I'm thankful to be part of it.
"Saturday's attendance was the highest in nine years, which is exciting. The support this town has for this club is really special. It's a year on the pitch of a lot of transition.
"We're really positive about Michael and what he's trying to build. We're really supportive of what he's doing. I'll do my best to answer your questions as well as I can."
The first question of the night was for Mr Boycott and pondered whether he is hoping to turn the club into one like AFC Bournemouth and, eventually, achieve Premier League status.
Benjamin replied; "We want to improve every year. For us, it's steady, incremental improvement. This isn't a League Two club.
"We want to be a steady League One club and pushing for Championship."
On issues like the current budget and whether he believes success can be achieved by splashing the cash, Boycott said; "We have increased the playing budget since we've come in, fairly significantly.

"We believe in the way Michael wants to approach building the squad. We're supporting him. It is a competitive, increased budget. I believe you don't buy your way out of this league - you build your way out of it.
"I don't think buying promotion is the right approach. Michael Flynn has told me that directly, too. I think it's dangerous for clubs.
"We looked at forty different clubs, all over the world. Some of them from a financial standpoint were a shambles.
"We didn't want to just come in and plug a gap. We wanted to build on a meaningful foundation."
Head Coach Michael Flynn recently insisted that, despite the recent takeover, his budget wasn't even in the top ten in the league, something Pomlett sought to correct, he said; "Michael is wrong about the budget."
Before joking; "It was a good way to get more money out of me and Ben. It worked!"
Pomlett went on to praise Boycott, he said; "Ben has culturally understood this club very, very quickly. I am here to help Ben, that's why I am sticking around.
"I am sticking around to make sure the plans that we have in place are actioned as smoothly as possible."
Boycott added; "We're thinking of this with a ten, twenty, thirty-year viewpoint. It's a very long-term view."
Benjamin went on to talk about other members of the Trivela Group, he said; "Ken Polk has been a personal friend of mine of ten years. He is my personal and business mentor."
Boycott was also questioned about Trivela member Matt Jordan and potential talent pathways from the states, he said; "Matt had an outstanding career as a keeper.
"He then had a career as a technical director in the MLS. In terms of talent pathway, immigration rules make it tough."
Former majority shareholder Pomlett went on to discuss his previous comments about four players being signed and a potential 'game-changer' coming into Walsall, he said; "There were four players, those four players are now with the club and I think can make a big difference."
Along with confirming that a new goalkeeping coach has been signed and will begin next week, Boycott also discussed his desire to attract new fans to WS1, he said; "Growing the fanbase is important.
"But it's about steady improvement on and off the pitch. Success on the pitch and the excitement around that will help."
Looking at fan experience as a whole, Stefan Gamble said; "We have been working with the fan experience company in the last year and we want to improve the general match day experience for all supporters.
"We have a fan survey out and ask as many fans as possible to fill that out and let us know where we can improve the matchday experience.
"We're going to work closely with the council as part of their regeneration project to boost the club's standing in the town. Hopefully, that will have a benefit for all.
"Ben and I went down to the Council building this morning to meet with the Leader and there is a commitment there for us to improve everything in the local area."
On the drive to reunite the club with the freehold of Poundland Bescot Stadium, Leigh replied; "The most important thing in the entire takeover was that the freehold was purchased at some point and it has to be done within two years and hopefully it will be sooner."
On how the finances will work, Boycott added; "It will be Trivela bringing additional resources into the club."
Stefan Gamble also added; "When the option is taken for the freehold to be purchased, it will be a mortgage payment as opposed to rent being paid. Once this is completed, the Club will benefit further."
On whether he will be a regular attendee in the Black Country, Benjamin said; "I have said it to many fans that I need to balance being a good Co-Chairman for the Football Club as well as being a good father.
"I plan to be here at the Club every four to six weeks and I will be here in person routinely."
Boycott also made sure fans were aware of who will ultimately own the stadium when it is secured, replying simply "Walsall", when asked whether the freehold will simply become an asset to Trivela.
As to why Michael Flynn was not in attendance, Pomlett said, "Michael Flynn isn't here as he's talking to a striker.", with the co-chairman also confirming a Meet the Manager evening will take place soon, he said; "We will be holding a 'Meet the Manager' evening soon with Michael where you can ask any footballing questions to him then."
The idea of a pre-season clash with Wolves was mentioned, with the costs such as Police and other safety measures being too high.
Looking back at last weekend's pre-season friendly defeat to Aston Villa, Pomlett sought to praise the visitors, he said; "The Aston Villa game was the biggest gate we have had here at the stadium for eight years and they didn't take a penny from it so we would like to thank them for honouring the fixture as they flew out to Australia on Sunday."
On to Michael Flynn, and Boycott insisted he is a big fan, he said; "I'm a huge fan of Michael Flynn. We're committed to supporting him and firmly behind him.
"He's preparing for an important game tomorrow against Leamington, and seeing to other important business with building the squad."
We then moved on to the Saddlers Club and the possibility of redeveloping it for fan use, Boycott said; "Once we get through the window, we'll look more at the Saddlers Club and what that looks like. It will be reopened.
"It will be something for our supporters to use on a match day but then it will also be available for use in the week when we haven't got a match day."
On to the make-up of the squad, as well as potential new arrivals, Pomlett insisted the club is committed to adding more players, he said; "Michael is speaking to a proven goal scorer. The escalation of the price of footballers at the moment is more than I've ever seen.
"We're committed to improving the strike force. I expect from the squad we've built to get more goals from midfield as well.


"Michael Flynn has built a midfield that is going to score goals for us this season. Hutchinson will score goals. Riley will score goals. Flynn Clarke has a good goal-scoring record. Those goals will help us, even more, this season."
Whilst Boycott added; "I believe our midfield will score more. Attackers are the hardest thing to find. As Michael said, we had a pretty substantial bid we didn't get. We're working on it daily, hourly."
Pomlett went on to take about his expectation for the campaign, where he revealed that he is hoping to reach the Play-Off's. he said; "There's a realistic expectation. We should be in the Play-Offs, at the very least.
"That's my personal expectation. I think that's realistic for us to say at this point. Michael has a good track record of doing that and with the wave of optimism at the club at the moment, why can't it happen.
"Michael stood here at the end of last season and said that this coming season will be better than last season and we thoroughly believe that that will be the case."
Boycott also spoke of his expectations, he said; "The injured players coming back in the second half of the season will be helpful.

"We want to do significantly better than last season and believe Michael is the man to achieve it."
On a potential pre-season trip to Birmingham, Alabama, he added; "Alabama is great, but we're not planning on any of that for now. We're focused on the 22/23 season."
He was also later asked whether he will be moving to the Midlands and said he is not currently planning to move but will be making regular visits.
Talking about potential outgoings, Pomlett admitted; "You can expect players to go. It's inevitable with players coming in. I expect a couple of players to be loaned out rather than sold."
Pomlett asked about the departure of Elijah Adebayo to Luton Town, and whether the club has a sell-on clause, Leigh confirmed. "If he moves on from Luton, which looks very possible, it could be the best deal for the club ever.
"If he ends up in the Premiership, it'll be the best move we ever made."
Back to Trivela Group, for some reason, and how dedicated to the club they are, Boycott said; "We've invested with decades in mind. My sole focus is on improving this club. We're committed to improving the club over the long term."
Looking at the recently-cancelled Working Party Meetings, Pomlett admitted; "I sat in on the working party meetings, not all of them, but I sat in on some and they didn't work. It became an internal battle between the supporters' groups.
"They were of no value to this club. I decided that we will change the way we communicate. We are now committed to doing three fans forums this season. I want to communicate to everyone, not just the select few."
"We've committed to doing three fan forums a year. We will continue doing video updates and communications via the programme, which I sat at the computer and write myself.
"We'll commit to do these forums on certain dates, even if it means we're not doing well and it'll be uncomfortable."
Boycott added; "Leigh has brought transparency to the Football Club and as Trivela Group, we want to keep that at the Club moving forward.
"We want to be transparent and make sure we hear back from everybody as well."
On to former Technical Director Jamie Fullarton, Pomlett insisted he is still keen on the idea of having someone in the role, he said; "I still believe it's the right role for the club going forward. The role itself, that's still an important role to take on.
"Jamie did some really good things, but not enough...From a football perspective, we didn't feel we were getting on very well, and neither did he."
When asked about recently removed director Nigel Bond Pomlett said; "Nigel wanted to move on in life. It's nothing to do with the takeover. It's just where he was in life."
And as to whether his decision will hurt the club financially, he added; "It's a very reasonable deal and not detrimental to club. He still comes to the games as a fan of Walsall."
Boycott was then asked about the exposure Walsall FC has in his hometown, Birmingham, Alabama since he took charge, he replied; "About 1,000% more in the last month or so but hopefully there will be more to come."
On the highs and lows of the recent years, Leigh admitted; "I have never been so low in my life as when we lost to Scunthorpe in February.
"I kissed Conor Wilkinson the weekend after when he scored the goal to get us the three points against Tranmere Rovers."
He added; "Being chairman of this club is the most pressured job I've ever done in my life. You can get very low with nowhere to go. I've warned Ben about that."
Boycott added; "It has been an interesting year for me and I have developed an understanding for how serious this is as I have been exposed to that over the past year."
Leigh said; "Please get behind me and Ben. This is an important year. It's the first time we've been owned by an American corporation.
"It's a major change, but I'm looking forward to it. I feel really good about this and hope you do to."
Boycott agreed; "I am really honoured to be here. I have been welcomed in and I really want to help move the Club forward."