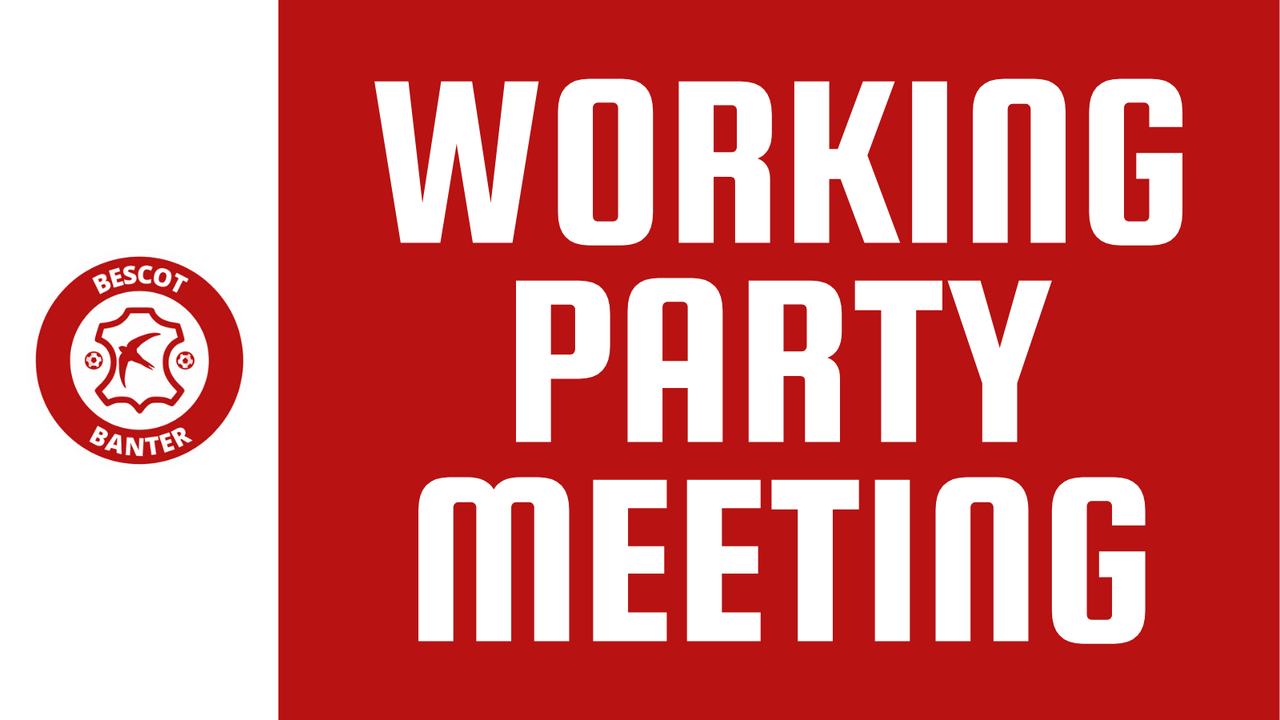 Here are the minutes from the most recent working party meeting between club officials and various supporters groups, which was held via Zoom at 4.00pm on Monday, 4th April 2022
.
Attendance, Apologies, and Minutes
Stefan Gamble (SG) – Walsall Football Club
Graham Whittaker (GW) – Walsall Football Club Supporter Liaison Officer
Ray Dale (RD) – Walsall Football Club Supporters Trust
Dave Beckett (DB) – Independent Saddlers Supporters Association
SG and GW began by thanking everyone for attending the meeting.


UPDATE FROM WALSALL FOOTBALL SUPPORTERS' TRUST
RD began by touching on the end-of-season awards and said that there will be four ballot boxes around the stadium for the Carlisle United and Port Vale games (15th & 23rd) and said they will need some assistance to set up e.g. set of tables, stationery etc. RD suggested having these in the Stadium Suite, the hospitality lounges, and two at either kiosks within the HomeServe Lower Stand. RD has the ballot boxes in his possession and SG stated that the Club would distribute these accordingly ahead of the games once received. Once voting is closed, RD stated that he can arrange for the trophies to be engraved ready for presentations.
SG noted that a date has been agreed upon for the End of Season Awards Dinner with all parties and expects this to be announced at some point this week with tickets to then go on sale. SG continued and stated that once all details are confirmed he will let RD know.
RD then added that the Supporters Trust will once again sponsor the official team sheet for next season. SG thanked RD for this update and thanked the Supporters Trust for their continued support.

UPDATE FROM INDEPENDENT SADDLERS SUPPORTERS' ASSOCIATION

DB began by saying that he has had queries from supporters regarding leaks in the Middle and Lower Tier, blocks 4 and 6 in particular during last Saturday's game against Leyton Orient. GW responded and said that he has received some emails on this also and he has since responded to them and spoke to Stadium Manager Bryan Taylor (BT) who is aware of it and is looking into it.
DB then queried SG about the state of the Saddlers Club and if there has been any progress since the last meeting. SG stated that the Club was working on plans and concept drawings have been commissioned for this area and he is hopeful that in the non-too distant future to be able to give supporters a real direction of travel. In essence, the Club are looking to have it back available to supporters on a matchday as it has been a big miss amongst the fanbase but to also have it as multi-functional and able to generate revenue during the working week.
DB then wanted to send his thanks to Ticket Office Manager Elizabeth Champion (EC). During the course of the season, DB has liaised with EC who has been helpful in arranging tickets for former players who have come to games and DB appreciates her support on this front. SG thanked DB for this and said he will pass this message onto EC on his behalf.
DB then confirmed that ISSA will once again be sponsoring a player/manager for the 2022/23 season as they have done for this season and asked if they could be sent the details of these packages. SG thanked DB and ISSA for their continued support and said he will ask the Commercial team to contact him on this.
DB then touched upon a rumour he has been made aware of regarding the football club being in contact with Walsall Council in reference to the freehold and the possibility of it changing hands and asked if SG could comment on this. SG reiterated that when Chairman Leigh Pomlett (LP) bought the club one of his key priorities was to reunite the football club with its freehold as well as driving the Club back up the football pyramid. SG stated that reuniting the Club with its freehold is a substantial body of work and something he has personally been working on for a number of years. SG said it's a complex situation but we are moving along with it and are hopeful his can be achieved at some point in the future. In order to achieve this, we have to go through the ACV (Asset of Community Value) process, which has been commenced by the Landlord at the request of the Club. The landlord has written to the Council with notice of intention to dispose of the freehold. SG stated that this has to happen before the football club can then buy the freehold. DB then added and asked if this purchase of the freehold would be via outside investments or loans from the banks. SG said that this structure of this is yet to be finalised but it is likely to be a combination of both. SG reiterated that the club will announce more on this as and when possible but at this stage it is nothing more than part of the process.
DB added to the above and touched upon the condition of the Banks's Stadium and said that whilst it will need some forms of repair over the coming years and with us renting it for a long period of time, would it be more beneficial for the club to borrow the money and use the ground as collateral and have a down payment to build a new stadium somewhere else. SG said that the costs of building new stadia would be significant. You would have to acquire land for it and spend a large sum of money on building the stadium itself on top of it. SG said that if it could be financed and there was a strategic business plan behind it then it is something that could be looked at. SG reiterated however that the main driver at present is putting the football club in a position to be able to acquire the freehold at the Banks's Stadium.
DB then touched upon matters on the pitch and said that it has been a disappointing season for all and that there is work to do in the summer in readiness for the 2022/23 campaign. SG agreed and said that overall, it's been a disappointing season, for one reason or another. Head Coach MF has since come in and has a period of time in the last six games of the season to assess his squad and see what his thoughts are for the new campaign. Initial conversations have been had on that front and the building process starts now.
DB then asked SG as to when the released/retained list will be publicised. SG said that clubs have until the third Saturday in May to submit their lists to the EFL and then this list can be publicised shortly after.
DB then alluded to an incident regarding an individual at Bristol Rovers who encroached onto the pitch and confronted former Head Coach Matt Taylor (MT). The court fined him but didn't see fit to hand him a football banning order. The individual received an email from the club stating he had been banned for the last three home games of the season and this was the case when the individual tried to use his season ticket card for our fixture against Oldham Athletic. DB went on to say that when the individual came to renew his season ticket at the Ticket Office window he was told that he has also been banned for the duration of next season and asked SG if there was a reason behind this decision. SG said that such decisions are operational and he doesn't get involved in any discussions regarding banning orders for pitch encroachments, this is something that the security team will be able to answer so he will take this query back offline and update accordingly.
SG touched upon the mini turnaround of results under Head Coach Michael Flynn (MF) then perhaps a reality check of sorts in the last two games so there's plenty to work on during the summer as we prepare for the new campaign.
SG then mentioned that Season Ticket sales are going well during the Early Bird period despite the slight price increase, which we tried to avoid and was a difficult decision to make. SG reminded supporters that they have until 30th April to renew/buy at the Early Bird prices and we are grateful to those that do.
SG then opened the floor to all parties for any questions.
UPDATE FROM WALSALL FC SLO

GW touched upon the recent announcement of the football club working in tandem with the Fan Experience Company and said that he and Darren Young (DY) have been working around the various areas of the stadium on matchdays looking at things that can be improved.
GW then alluded to an issue with the speakers in the HomeServe Middle/Upper Tier and said that we are looking into this issue as a matter of urgency. A sound engineer was due to visit the stadium last week but had to reschedule due to Covid.
The meeting closed at 16.30. The next meeting to be held via Zoom on Monday, 9th May 2022.
🛒 CLICK HERE TO VISIT THE BESCOT BANTER STORE!