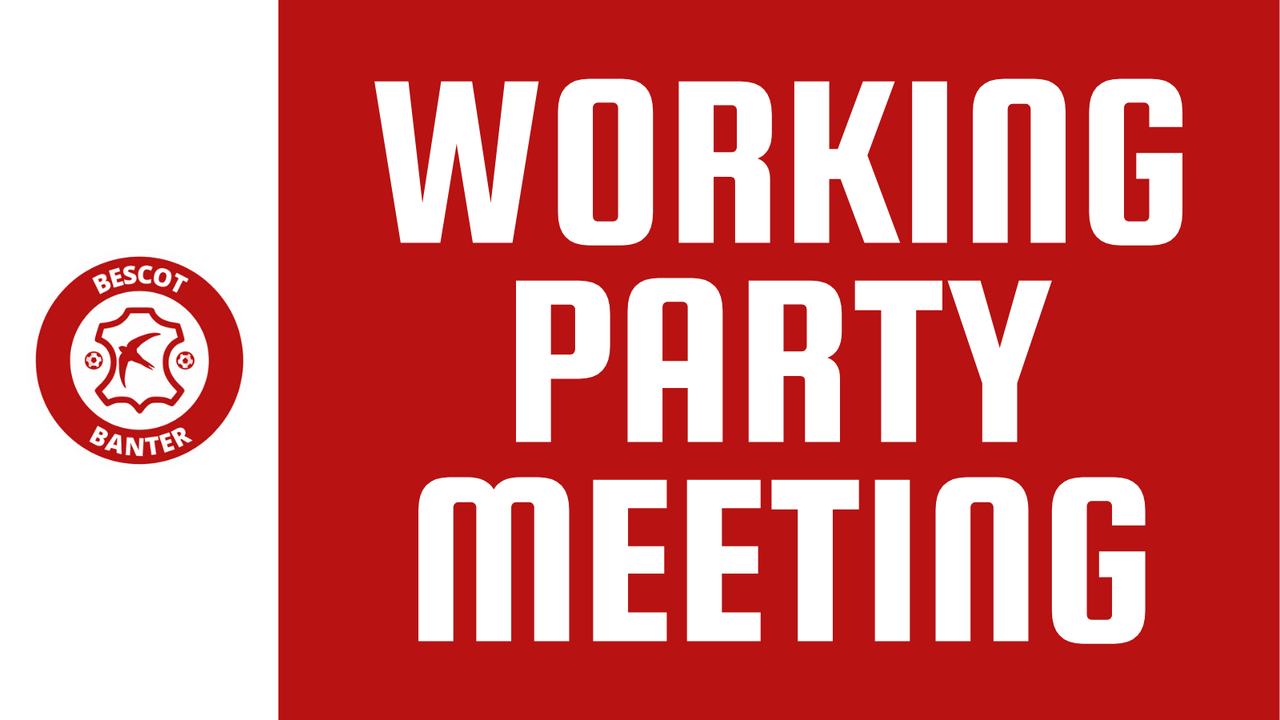 Here are the minutes from the most recent working party meeting between club officials and various supporters groups, which was held via Zoom at 4.00pm on Monday, 7th February

2022

.
Attendance, Apologies, and Minutes
Stefan Gamble (SG) – Walsall Football Club
Graham Whittaker (GW) – Walsall Football Club Supporter Liaison Officer
Dave Beckett (DB) – Independent Saddlers Supporters Association
Bob Thomas (BT) – Walsall Football Club Supporters Trust

Minutes
SG and GW began by thanking everyone for attending the meeting.


SG touched upon an issue which was raised at a previous meeting in regards to the licencing agreement between ISSA and the Club. SG said that Commercial Executive Keira Webb (KW) has since responded to DB on this and is keeping an eye on all relevant email inboxes in former Head of Commercial & Retail Alex Smith's absence and SG apologised for the inconvenience this caused. DB added that he had correspondence on this with KW and said that they are awaiting the last invoice and still waiting to get some cash over to the club. SG stated that he will look into this for DB and ensure this is resolved ASAP.

SG then opened the floor to all parties for any questions they may have in light of events that have occurred since the last meeting.
UPDATE FROM WALSALL FC SLO

GW was pleased to announce that the club will be working with Darren Young (DY) from the Fan Experience Company and the project will last throughout 2022. The Fan Experience company have worked with the EFL since 2006 on fan engagement and matchday experience programmes. DY will help identify and implement improvements to our operations, and a press release with full details will be publicised in the near future. GW is excited to have DY on board and is hoping that over time supporters will notice some changes to better their experience on matchdays.

GW then touched upon the membership scheme which is hopeful of being rolled out in the 2022/23 campaign. GW said there are various categories and members to this and all details will be publicised as and when agreed and in advance of the new season.

SG added to this and said that both initiatives are to improve the matchday experiences for supporters and by engaging with a third party who has an affiliation with the club he is hopeful that this will be beneficial for everyone and improve the overall experience.
DB began by saying that further progress is being made down at the Railway Club with the 3G pitch. DB said that they have secured a significant amount of funding and are in the process of gaining further funding to have an FA approved dressing room modular block fitted too. DB reiterated that the area will be called the Chris Nicholl Football Centre. All the infrastructure in the background is being put in place and they are hopeful of beginning this body of work in the Easter period.

DB then began with some questions which he had received prior to the meeting.

DB began by asking if the Board believe that promotion is still the aim given our current position and recent results, following comments made by Chairman Leigh Pomlett (LP) in the last few weeks. SG said that the last six results have not been positive and have had an effect on what we are able to achieve this season. SG feels that we can still have a strong finish to the season but said that the current league position is unacceptable and not where we should be with the squad that we have assembled. As things stand, SG conceded in his honest opinion that promotion this season is a long shot, but it is important that we have a strong end to the current campaign and get back to winning ways starting with tomorrow against Scunthorpe United.

DB then quoted comments made by LP in the previous campaign, stating that '19th place in League Two is no way acceptable'. With the team currently sitting 21st in the same said table, DB questioned why Head Coach Matt Taylor (MT) is being allowed to carry on given the situation in his opinion is far worse than it was this time last season and after being reassured by LP we would not see it happen again. SG responded and said that whilst it's a fair question, it's something only LP can answer himself. SG stated however that every manager's position up and down the country is based on results and after six straight defeats it makes it a really difficult situation. The results are something which need to be addressed.

DB then touched upon comments made by MT after Saturday's defeat to Northampton where he said that we are not in a relegation battle and asked if the Executive Board agree with him or accept that this may be the case. SG said we are in a difficult position as things stand and said that if we do not get a positive result tomorrow night you could argue that we could be in such a battle. There are still eighteen games remaining and therefore time to put things right and SG is hopeful that the team can turn the tide and push up the league and finish the campaign strongly.

DB then alluded to some of LP's comments in the matchday programme and asked if he wanted to retract his comments/if he would offer an apology to some supporters in his next programme notes this coming Saturday. SG said that he will ask the question to LP offline in due course. SG added that LP's comments were in relation to some comments which had been made on social media about certain members of staff which he believes were the motivation for these notes. SG reiterated that he will make LP aware of the feelings of some supporters on DB's behalf.

DB then asked that if the unthinkable happened and the club were to be relegated at the end of the season, would they be able to continue to meet the requirements of the rental agreement in full as a non-league club. SG said whilst we would be able to function and meet all of our liabilities, we would have to scale back the operations significantly and review the business model and SG stated that this is something that would be damaging to the football club should it ever happen. SG said that with the way the club is run we are able to adjust based on whatever division we are in.

DB added to the above and asked if moving from the Banks's Stadium would be a viable option. SG said that moving away from the stadium is an option with there being a break in the lease as he is sure all parties are aware. SG stated however that it is not an option he would recommend but he understands that some people would like us to explore that.

DB concluded on the above subject and asked if a contingency plan had been planned out should we fall out of the fourth tier. SG reiterated that based on how the club is run it can operate in any given division because it can tailor its outgoings compared to its incomings. SG stated that we do not plan to go into non-league but said we would be able to negotiate our way through if it were to happen.

DB then asked if there are any reasons as to why the club are unable to facilitate a meeting with LP and Technical Director Jamie Fullarton (JF) in order for fans to question what they are seeing out on the field. SG mentioned that we did hold an open forum meeting in November and that we tend to hold two of these a season. SG said that supporters can expect to have details of another meeting before the end of the current season with LP, JF and SG himself, if necessary, amongst others.

DB then asked that if the club were to begin the new season in League Two, the fourth season in said division, would there be scope to reduce season ticket and admission prices as a reward for the loyalty of supporters as he stated that the fans are the biggest and longest serving stakeholders in the club, given their financial support over the years and DB suggested that the backing of the supporters outweighs the financial support of some of the club directors. SG said that this will be relayed back to the Executive Board after this meeting. SG added that with the club costs going up significantly and energy/electricity bills going up on a global front for everybody, it's a matter which needs to be looked at in depth. SG appreciated the point raised and mentioned that the supporters have been fantastic over the years with their support, both on and off the pitch.

DB then touched upon some videos which have been sent to ISSA in regards to issues with the toilet facilities in the middle tier at the Northampton game and expressed his concerns by what was sent. GW confirmed that he had also received the video and it was passed on for attention of Stadium Manager Bryan Taylor (BT). GW had some feedback in that there is nothing concrete to suggest why these issues occurred but stated that BT and the relevant personnel will look into it to ensure this doesn't happen again.
BT alluded to the recent results and performances on the pitch and individuals but stated that such questions like these are better suited for a fans forum/focus meeting with JF and MT in attendance.

BT had a few queries to raise and began by asking about the digital scoreboard and whether it is fully functioning as normal. SG responded and said that we have someone coming in this week to take a look at the ongoing issue and is hopeful that it can be resolved at the earliest convenience as whilst it is operating in some capacity both pre-matches, during and after the final whistle there are some areas that can't currently be facilitated.

BT then asked if there are a limited number of passes for the Savoy Lounge. SG stated that the Savoy Lounge capacity is limited to 100. SG said that the area was then made smaller to 100, in line with the premises licence. The 100 passes were sold for this season and we have a waiting list at present and whilst SG sympathises with those who wish to bring relatives into the area who are non-pass holders for a match-by-match basis, it is something we are unable to facilitate due to the capacity numbers. GW added to SG's response and said all supporters with a valid matchday ticket are able to utilise the Stadium Suite and Community Hub areas before and after the matches.

BT then raised some queries regarding the Poundland Main Stand and asked if an extra door could be opened to reduce the walking distance from the Savoy Lounge to the centre stand based on concerns expressed by some of their members. BT also mentioned that some stewards were allowing supporters to stand and watch the game by the Bonser Suite entrance. SG said that he will look into that matter and speak to the hospitality stewards and put this right as nobody should be standing in that area to watch the game. SG then came back to the first query and said that it's a difficult one because if we were to open an extra door it would lead to pass holders walking through the Priory and Mayfair Lounge which is the matchday restaurant area.SG stated that the integrity of that area needs to remain.

BT then questioned the acquisition of Manny Monthe and whether the club were aware of the alleged charges against him at the time. SG responded and said that they did their due diligence and were not made aware by the player, his agent or Tranmere Rovers about any outstanding charge.

BT then asked if there was an update regarding the Saddlers Club. SG said we are working on three/four options for this area but a final decision on direction of travel is yet to be finalised. SG reiterated that it needs to work during the working week for us but also be fit for purpose for supporters on a matchday because that is sorely being missed and something which traditionally plays a big part in the supporters' matchday experience. SG stated that it will be reopened as and when ready and he is hopeful of being able to give more updates on this in the near future.

BT concluded by stating that Helen Thorpe-Wood (Vice Chairman of the Trust) has been appointed as a Disabled Supporters Officer. She had a meeting with Laura Greenhouse (LG) from the club and in liaison with the SLO, Helen and Adam Davy (AD) the disabled access for rail passengers northbound at Bescot Station is currently in discussion with West Midlands Rail and West Midlands Authority as there currently is no access. BT added that they have contacted the Walsall South MP and counsellors to try and get them on board. SG thanked BT for this update and said we are more than happy to support this campaign. GW added stating that this arose when a supporter came in a wheelchair and arrived at the station and couldn't get across. GW said that a lift on both sides of the station is needed and the matter has been raised with West Midlands Rail. GW added that our matchday experience documents are being changed to reflect the situation concerning access from the station.

DB then touched upon the 5-year plan which LP has alluded to before and asked when we can expect this to be in the public domain and if he and the fellow directors would hold themselves accountable should all not go to plan. DB also asked that should an offer be made of honest intention would LP look to sell the club for the same value of what he initially paid, or look for a return on the investment. SG said that he believes that LP is prepared to hold himself accountable by delivering what he set out to do when he purchased the football club (returning to League One as soon as possible, push towards the Championship and reunite with the freehold). In regards to the selling of the club, SG said that LP would look to do so but only if it was the right thing to do and in the best interests of the club. SG added that LP has been fairly open since being Chairman on that front and that he doesn't envisage being here for a considerable period of time; he wants to achieve the aims that he set out in the first instance and this hasn't changed during his tenure.

DB then asked if any questions which can't be answered at the meeting today in LP's absence be answered via a piece to camera DB added that supporters have put in a lot of financial support over the years SG said he will also pass this request onto LP and he is fairly certain that he will addresses any unanswered questions in one form or another.

DB then touched upon the sad news of supporter Martin Parker who recently passed away after a short battle with illness. Martin was a popular figure amongst supporters and was an ever-present at games, both home and away and DB asked if we could pay tribute to him at Saturday's match against Tranmere Rovers in the 44th minute with a minute's applause and a message on the digital scoreboard. DB followed this by asking if a representative from the club would be able to attend the funeral service as and when all is arranged. GW responded and said that this news was something that the Comms team were made aware of prior to the meeting and these plans are in place for the above request. Both GW and SG said that they will arrange for a representative of the club to attend the service once all the details are finalised.

The club would like to extend their deepest condolences on behalf of everybody at Walsall Football Club to Martin's family and close friends at this difficult time.

DB then turned attentions to the signing of striker Devante Rodney (DR) in the January transfer window and asked if the extent of his current injury was disclosed at the time by Port Vale and if this had any reflection to the price paid for his services. SG said that DR's injury didn't affect the price in any shape or form. The club signed DR on a two-and a half-year contract and SG believes he will be an important player for us over that period of time as a number of league one and league two clubs were interested in him. SG stated Port Vale disclosed the injury, he had a full medical, which he passed and it's a very minor injury so we are waiting for it to settle down rather than bringing him back too soon and risk the same injury occurring on a more significant scale. SG is hopeful that DR will be available for Saturday's game against Tranmere Rovers.

DB concluded by touching upon the actions of a supporter who entered the field of play at our away game against Bristol Rovers. DB stated that whilst they don't condone the actions of said individual, there was no malice in intention in approaching MT and the question was asked as to whether the club would send a letter in support of his case, given he is a long-standing supporter. SG said that he spoke with MT and was told that he was polite with him during those events and whilst he appreciates it was out of pure emotion and frustration with recent results, something shared by everybody at the football club, the individual has broken the law and unfortunately it wouldn't sit right for us as a club to offer support on the back of a criminal offence.

The meeting closed at 14.50. The next meeting to be held on Monday, 7th March 2022.