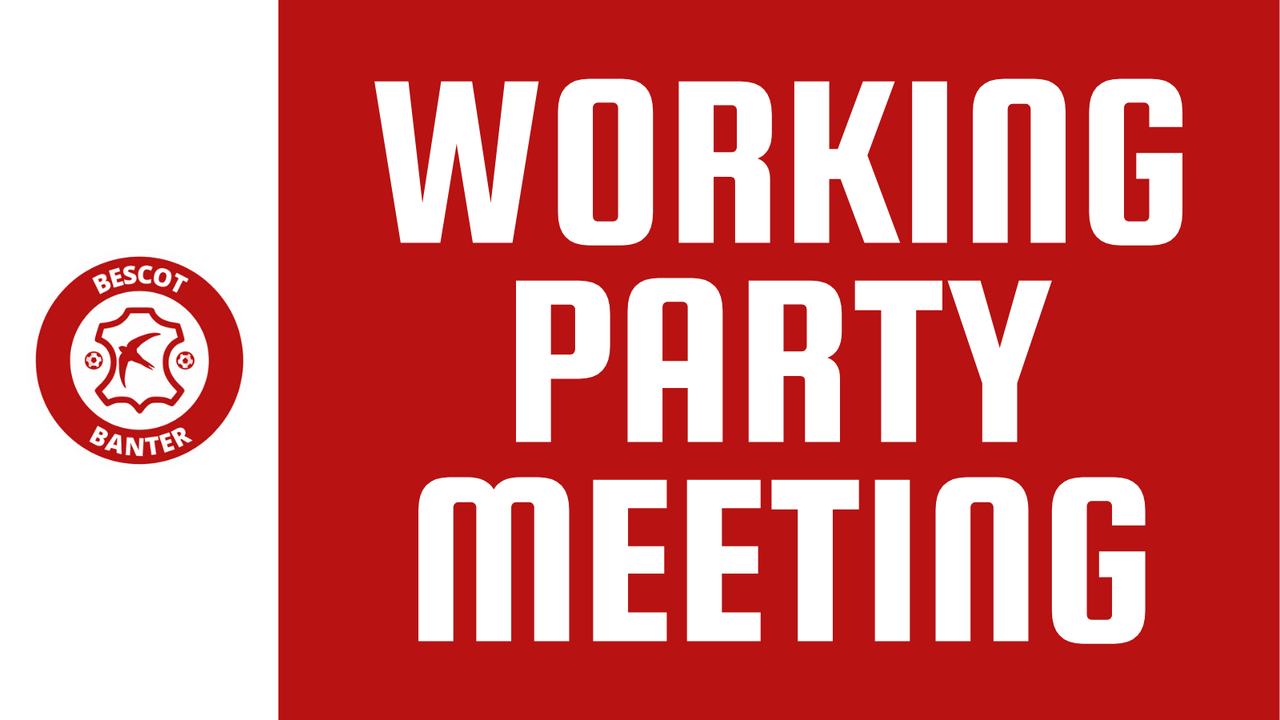 Here are the minutes from the most recent working party meeting between club officials and various supporters groups, which was held via Zoom at 1.00pm on Monday, 4th October

2021

.
Attendance, Apologies, and Minutes
Daniel Mole (DM) – Walsall Football Club
Graham Whittaker (GW) – Walsall Football Club Supporter Liaison Officer
Dave Beckett (DB) – Independent Saddlers Supporters Association
Brian Adshead (BA) – Walsall Football Club Supporters Trust

Apologies:
Ian Buckingham (IB) – Walsall Football Club Disabled Supporters Association

Minutes:
Sam Hadwen (SH)
DM began by thanking everyone for attending the meeting.
GW addressed those in attendance firstly and mentioned that for Working Party meetings moving forward, he will be chairing the meetings and one member of the Executive Board will represent the football club. This will alternate for every meeting between DM, Stefan Gamble (SG) and Chairman Leigh Pomlett (LP).


DM began by touching on the recent results on the pitch and discussed the club's recent results and league position.

Off the field, previous issues which were raised from the FGR match in particular continue to be monitored and addressed. Our last home game vs Bristol Rovers saw WFC staff the entire stadium with our own staff, as opposed to agency staff.

Whilst we have these bodies in the business now, DM asked for supporters to show patience and understanding with these individuals as they settle into their matchday duties over the coming weeks as they gain experience and knowledge through training, support and of course working more and more matches.

From a hospitality front, DM said that most games so far this season have done well and is hopeful that this will continue.
DM touched upon the new simpler system in place for the bars around the ground whereby Savoy Lounge members can utilise the Savoy Lounge, upper tier supporters can utilise the Stadium Suite and lower tier can utilise the Mick Kearns Community Hub. Supporters in the Community Stand have access to the Community Room and the Fan Zone whilst away supporters can access the Away Bar.

DM asked for feedback.

BA asked DM where Main Stand supporters who haven't got a pass to the Savoy Lounge can go for a drink both before and after the game.
DM stated that the Stadium Suite is available for all supporters with a valid matchday ticket before the match, as communicated in advance of every home game and Main Stand supporters during the match can utilise the concession unit under the undercroft of the stand..

UPDATE FROM WALSALL FC SLO

GW gave an update by raising the issues which were raised to him since the last meeting. The e-ticketing booking fees will continue as they have been normally due to the club not being able to absorb the costs themselves and GW reminded supporters that the facility for ordering tickets over the phone and at the Ticket Office still remains.
BA then raised a suggestion bought to his attention via a member as to whether the club could look into having their own system to reduce these booking fees. DM reiterated that this fee is TicketMaster's charge and whilst this has been raised at Executive Board level, the club are not in a position to swallow the fee and this is passed on to the end user.

DM confirmed that supporters do not have to pay a fee if they phone up or visit the Stadium in person. The fee is levied by TM because they process the ticket sale rather than the Ticket Office.

DM went on to say that for us to start our own system, it would require us having to realign all of our programming and other sectors of the business e.g. mapping of the stadium for Aston Villa Women, our Conference & Events etc which would create its own complications and costs which would be greater than the handling fee charged currently by TM.

GW spoke about the bars and kiosk areas and said that extra staffing and training will be in place, so there are further improvements moving forward in this sector.

GW has held meetings with disabled supporters in recent weeks and there are various ideas being discussed as we look to improve their matchday and booking experience moving forward.

GW then touched upon the recent partnership between the club and Her Game Too campaign and said that we encourage supporters to raise issues regarding sexist behaviour as this is something which will not be tolerated at the club.
BA began by touching on some matters from the last meeting and asked if the club are organising the Poppy Appeal. DM said we have been speaking with Gurinder Atwal from the British Legion and has suggested either the 13th November vs Harrogate Town or the FA Cup fixture on 6th November should we be granted a home tie for this to take place.

BA then mentioned that Secretary of the Trust Ray Dale (RD) is hosting 4 Bus Drivers from the local Bus Company as part of the recognition of Key Workers efforts through the pandemic.

BA spoke about the Christmas Toy and Food Appeal and said that he is liaising with us and the Manor Hospital on this ahead of the proposed dates for donations and delivery.
DM said that the 11th December is pencilled in for the Toy Appeal to happen and advised BA to let the club know in advance what their plans are and what they need from us. In regards to the Manor Hospital visit, DM said that he is waiting on clarity as to the squad can attend due to Covid protocols.

BA concluded and suggested whether Helen Thorpe-Wood, a Trust Board Member alongside Club Chaplin Rev. Lance Blackwood could arrange some form of service around the festive period in recognition of the supporters we have sadly lost.
DM said he is happy for this to take place and suggested linking this in with the Toy Appeal and having a service next to the memorial wall by reception. BA understood and confirmed he would report back to the Trust.
DB began by raising a query regarding a meeting request with LP, Head Coach Matt Taylor (MT) and Technical Director Jamie Fullarton (JF) following the Bristol Rovers game.
DB said that he received a response so say this would be spoken about in the next few days, but hasn't heard anything back. DB then asked if there was any particular reason as to why this may be, as this was something that we agreed would take place once the season commenced.
GW responded and said that discussions have been had and that a date has been arranged but not been formalised.
DM commented and reminded DB that we did hold a supporters open forum meeting with LP and MT in the Stadium Suite in August on the day of the photocall/open training session prior to the start of the season but stated that he would follow this up with LP when he saw him at Tuesday's fixture against Northampton Town. This has since been confirmed for 8th November with full details to follow.

DB then raised a query regarding a number of long-standing supporters who have requested if the club could refund their season ticket money based on recent performances.
DM explained that, whilst the club were respectful and sympathetic to those supporters who are disappointed with current results, as per the terms and conditions for the sale of Season Tickets they are not refundable based on form.
DM and GW agreed that they understand the supporters' frustration and imagined most of those email requests were following the late home defeat to Bristol Rovers. DB confirmed this to be the case and explained that there were around 15 such emails after the Rovers defeat, and he understood the club's position but had to ask the questions as it had been raised by ISSA members.

DB asked about the first-team squad and asked if there are funds for any potential incomings in the January transfer window given the recent list of injuries we have. DM said that there are funds available if required. DM spoke about Liam Kinsella, Conor Wilkinson and Rory Holden all currently being injured and hoped they would be back in a Saddlers shirt in the not too distant future.

DB concluded by stating that he has recently resigned from his position as Vice Chairman of the DSA due to personal reasons. DM thanked DB both for the update and for all his work during his time as Vice Chairman of the DSA.

DM and GW asked if there were any further matters arising.
The meeting closed at 13.45. The next meeting to be held on Monday, 1st November 2021.