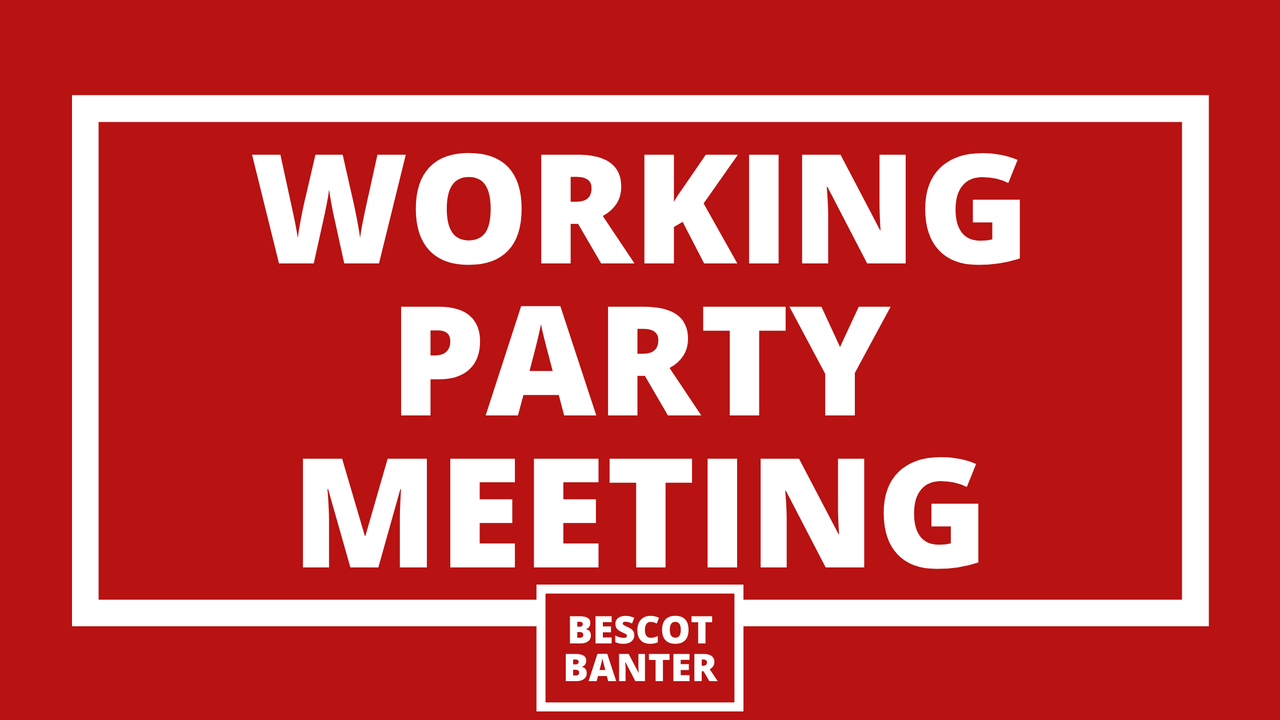 Here are the minutes from the latest working party meeting between club officials and various supporters groups, which was held via video chat at 1.00pm on

Monday, 5th July 2021

.
In Attendance and Minutes
Present
Daniel Mole (DM) – Walsall Football Club
Stefan Gamble (SG) – Walsall Football Club
Chris Saunders (CS) – Walsall Supporters Alliance
Graham Whittaker (GW) – Walsall Football Club Supporter Liaison Officer
Dave Beckett (DB) – Independent Saddlers Supporters Association

Apologies
Ray Dale (RD) – Walsall Football Club Supporters Trust
Ian Buckingham (IB) – Walsall Football Club Disabled Supporters Association

Minutes
Sam Hadwen (SH)
DM began by thanking everyone for attending the Zoom meeting.


DM began by giving an update about the Club to the Working Party members. Since the last WPM, a lot has gone on behind the scenes with some new additions through the door, contract deals being agreed with some of our youngsters and the opening of the sales process for our 2021/22 'Home Is Where The Heart Is' Season Ticket campaign. DM stated that he has been really pleased with the response so far in the opening weeks and is hopeful that this will continue as we edge closer to the start of the 2021/22 campaign. Chairman Leigh Pomlett (LP) is doing another update to camera, with this expected to be publicised in the next 24/48 hours and overall.

From an operational front, DM had a meeting with the SAG (Safety Advisory Group) last week and they signed off our minimum levels of attendance for the Crystal Palace game (2,500) which will give 2019/20 season ticket holders who left their money in the club the chance to select their free ticket between this Wednesday and next Wednesday (14th July) with any unsold tickets going on sale to those with a booking history at the club. DM added that we are currently working on socially distanced crowds for the Aston Villa and West Bromwich Albion games but with the imminent announcement from the Government, this could change. DM is hopeful of some positive news leading up to 19th July.

DB asked a question regarding the Palace game and asked how those who left their money in the club who have requested for a Season card as opposed to a download to their smartphone will get their ticket. DM said that we will provide an FAQs document in the lead up to the game but stated that once the tickets are live on the system you will be able to go onto our ticketing site, select the game and enter your details and then your ticket will drop into the basket whereby your QR code will be displayed and it will then be a Print At Home ticket. From there, you can print this ticket off and bring along with you on the day of the game and scan in to access the turnstiles. DM added that those with smartphones will be able to download their ticket into their wallet and access that way when scanning in.

DM stated that he has had a meeting today with the EFL regarding the return of supporters to stadia for the upcoming season and they are very hopeful that we will be in a good position, however this wasn't elaborated on further. DM stated there will be a red zone area still in place around the dugout and we await further information on this (Block N of the Poundland Stand).

DM stated that whilst we await this news, we are doing our bit behind the scenes as ever and elaborated on the deep clean of the stadium ready for the fans return as well as touch ups around the ground e.g., a new lick of paint and also the new bar in the Community Hub which will be completed and signed off by the end of this week. The training ground has had some refurbishments and has been completed this week, with DM stating that the Comms team will provide some images of this work in due course. The pitch renovation work has also been completed and back up to full-spec, with DM reiterating that it has been a productive month with these pieces of work amongst much more.

SG then reminded the supporters groups that the stadium is going cashless across all areas e.g. car parking, ticket office etc and asked for this message to be relayed and said that this will be communicated as well on our social channels. SG stated that with any new system/approach put in place there will be some teething problems and asked supporters for their patience and understanding as we will get everybody in and it will help make the matchday experience simpler and easier for supporters in the long-term.

GW asked a question about the Banks's Stadium video guide and asked if we would be looking to update this with the new systems in place. DM said that we have been looking at this and in regards to the Palace game we will look to put something out in the lead up to it once we have a better understanding as to how the world will be.

DM then touched upon a fans forum/Q&A evening which LP mentioned previously and said that we are waiting for dates on this and will communicate this once confirmed. DM stated that this will likely be a virtual event but could be in person dependent on what restrictions are in place in the next few weeks.
UPDATE FROM WALSALL FC SLO

GW began by saying that he has received a lot of messages from supporters praising the Ticket Office team and the overall sales process of purchasing a 2021/22 Season Tickets via the online ticketing site. SG thanked GW for this and praised the Ticket Office team and Elizabeth Champion (EC) in particular who is covering for Laura Greenhouse (LG) who is currently on maternity and said that on a whole we have been able to service all supporters and assist where needed via email/over the phone.

GW then touched upon the Third kit which has been distributed to supporters in recent weeks and stated that there has been a lot of positive feedback and engagement on social media.

GW concluded by touching on the Saddlers Draw as the prizes are increasing over the next few weeks and asked if this information could be passed on by all supporters groups. DM thanked GW for his update and stated that we will support in promoting this via our social channels.
UPDATE FROM WALSALL FC ISSA

DB had a question about away tickets and asked if supporters will be able to purchase these from the Ticket Office if the restrictions are lifted. DM said this will be formed via a club-by-club decision but he is not entirely convinced that there will be any away travel at the start of the season, based on conversations he has been privy to. DM did state however that we have been granted away fans for two of our three home games in pre-season if required as these fans will be coming from the same areas and not from across the country. SG added to the question raised and said that once the restrictions are lifted, it's a league regulation to request away tickets from the away club and we would do that to service our supporters. SG did reiterate that we would need to look at the mechanics of this but stated that it would more than likely be a similar process to normal.

DB followed up on this question and asked if ISSA could have a key to the main car park as and when required for the coaches and minibuses in use for away travel. SG had no problems with this but reiterated that someone would need to take the responsibility for it and ensure the site is locked up and secure once finished with.

DB then asked a question regarding the stadium going cashless as mentioned earlier and asked if there would be any handling charge on top of a purchase e.g. at one of the bars. SG stated that we as a club absorb any changes and supporters will only be charged what they have spent. The only caveat is that there is an internet booking fee on match ticket sales of £1.25 which is levied by Ticket Master rather than the Club who do not benefit from the fee. Hopefully supporters will understand and in the majority of cases this charge would be cheaper than the cost of supporters actually having to travel to the Stadium to purchase tickets.

DB then touched upon the new kits and asked when we can expect to see the home and away shirts on sale. SG responded and said that because some supporters have had to wait a period of time for their Third shirt and there is a backlog of orders, we are getting those out first followed by the home and away shirts and then once all these have been posted out these will be on sale via the Club Shop and Online Store. DM then asked SH to speak to Head of Commercial and Retail Alex Smith (AS) to firm up the dates for the home and away shirts to be on sale.

DB then mentioned the club vacancy which was posted for a Senior Groundsperson at the club and asked if this was to replace Paul Mason (PM). DM stated that PM is our Head Groundsman and that the job advertisement is for someone underneath his position to join the team which we have in place.

DB then gave an update on the game on Sunday 18th July for the launch of ISSA FC, where the playing area at the Railway Club is being named after Chris Nicholl. DB has spoken with AS who has donated some gifts for the night as part of the raffle. DB placed his thanks to the football club for organising this and gave an open invitation to any of the staff to come along on the day.
UPDATE FROM WALSALL FC SUPPORTERS' ALLIANCE

CS had no update to report from the WSA perspective, but praised the club for their work behind the scenes since the last meeting and added that he will direct the minutes to the members as and when they are publicised.
The meeting closed at 13:40. The next meeting to be held on Zoom on 2nd August 2021.