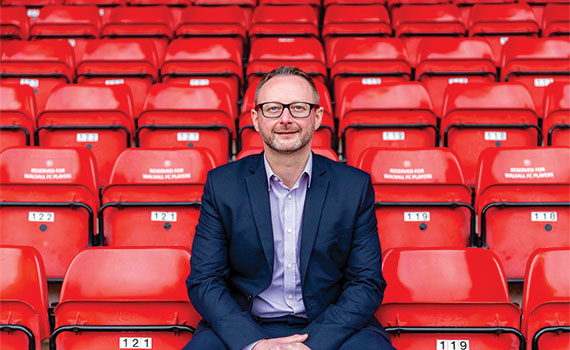 Joined in the online meeting by chairman Leigh Pomlett and secretary Dan Mole, the trio, who were answering questions posed by media man Tom Helsop, discussed a variety of subjects including the possibility of a 'socially distanced' return to action.
With the club's Essington Training Ground having already been made Covid-19 safe, work is ongoing in WS1 with a view to welcoming fans back as soon as possible as club finances continue to be stretched by the lengthy spell of downtime.
Speaking via the club's official
YouTube Channel
, Stefan said;
"We're having to work a little bit in the blind because there's not a huge amount of guidance, but the guidance we do have allows us to map the stadium out, socially distancing supporters and using the whole stadium to get a crowd.
"We're potentially looking at a crowd between three and four thousand, which would mean we could get all the season ticket holders in. There may not be room for away fans, we don't know yet, but that work is underway.
"We're waiting on specific guidance from the authorities but when that does come we'll be in a very good place to be able to implement that.
"We feel that if we're given the green light, everyone that wants to come and watch Walsall will be able to do so. We're confident we'd be able to do it in a safe way."
For more Saddlers videos, including match highlights, player interviews, and behind the scenes content, subscribe to the club's official YouTube Channel,
HERE!