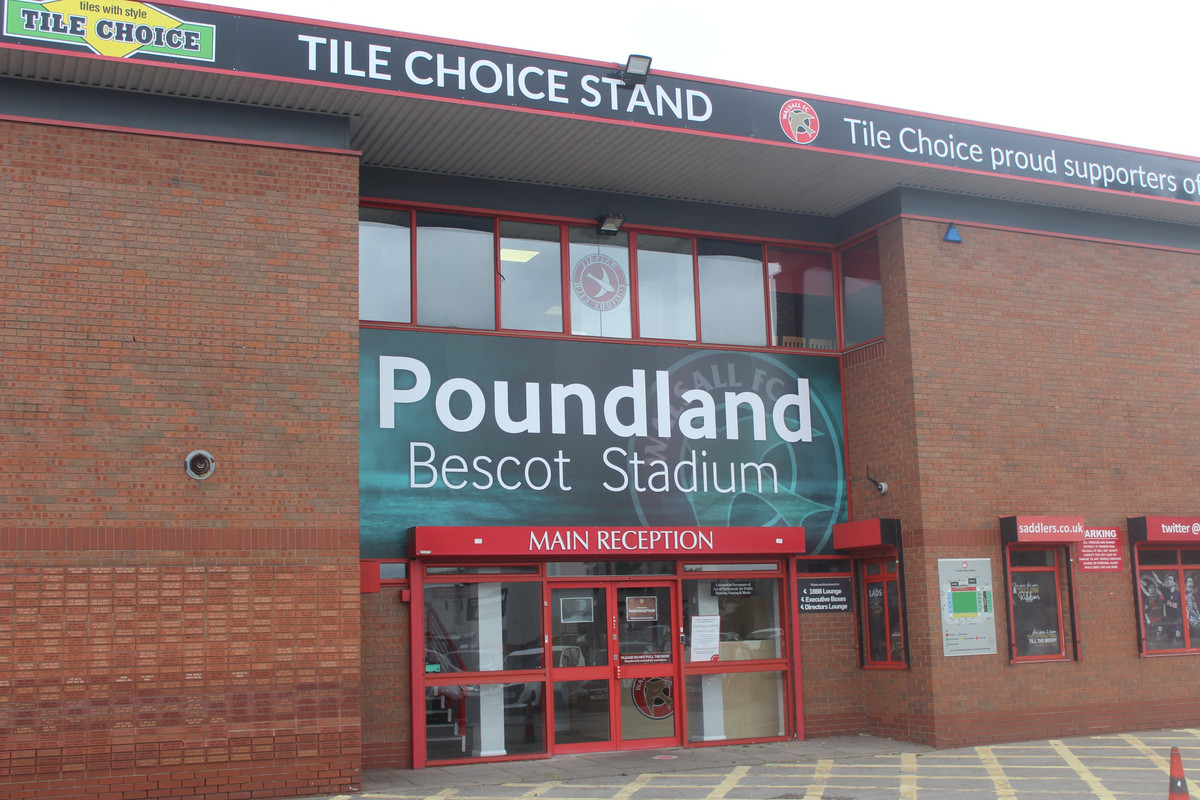 Here is your handy guide to all-things Poundland Bescot Stadium as the Saddlers prepare to welcome Swindon to town for this evening's Carabao Cup - Round One clash.
MATCH TICKETS
Tickets for tonight's game are still available to purchase. The Ticket Office will be open right up until kick-off.
Click here
for more information on ticket prices. We advise supporters to arrive as early as possible as we expect it to be busy. You can still purchase tickets for the game online,
here
.
THE CLUB SHOP
The Club Shop at the Poundland Bescot Stadium is open up from right up until kick-off this evening. Please allow yourself plenty of time to be able to browse around the shop.
TEXT SERVICE
Last season the club launched a text service for supporters who can anonymously report any incidents they see inside or outside the stadium. Discrimination of any kind will not be tolerated at the Poundland Bescot Stadium.
If you see or hear any forms of discriminative behaviour, please text 07585 858030 with details of the incident and location in the stadium to report it.
iFOLLOW WALSALL
Audio match passes are available for just £2.50 for tomorrow's game. Please note, the game will not be streamed live in the UK.
THE STADIUM SUITE
The Stadium Suite will be closed this evening. All supporters are welcome in the Community Hub in the lower tier before and after the game.
THE MICK KEARNS COMMUNITY HUB
The Mick Kearns Community Hub, situated in the lower tier, will be open before the game, at half-time and after the game.
CONCESSION UNITS
We have a new Supporters Zone in the undercroft between the Tile Choice Main Stand and Poundland Stand this evening.
JUNIOR FAN ZONE
As the Experienced Energy Solutions Community Stand is closed this evening, the Junior Fan Zone will not be open.
AWAY BARS
Swindon supporters in the traditional away end behind the goal will have access to the away bar in the concourse, as well as access to a concession unit and bar outside the stand.
MATCHDAY PROGRAMMES
The latest edition of Saddlers Shout will be available around the ground and at the Club Shop. Tonight's programme includes a column from Co-Chairman Ben Boycott, Co-Chairman Leigh Pomlett and Head Coach Michael Flynn as well as a poster of the squad photo! This evening's programme is available for the reduced price of just £2!
Supporters are also reminded that the Poundland Bescot Stadium remains a cashless venue.