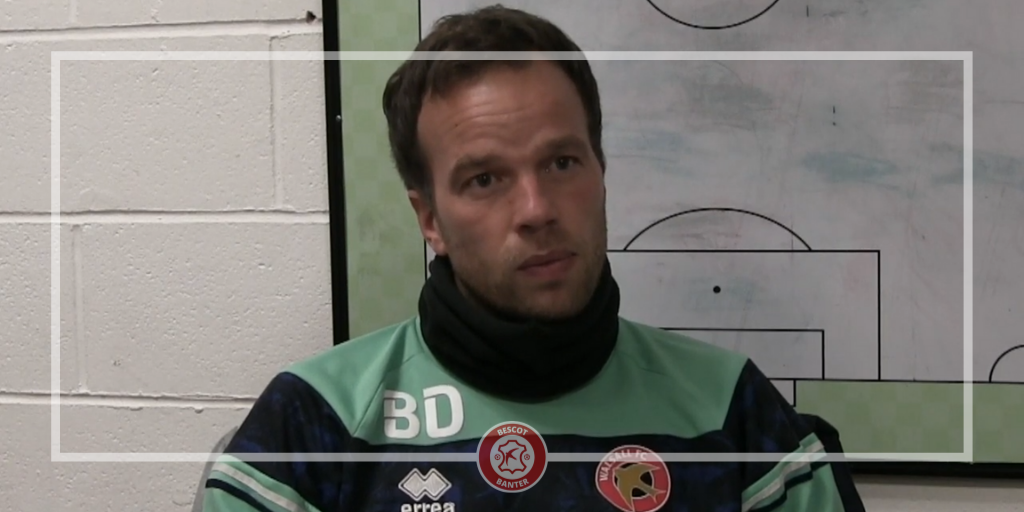 Walsall Head Coach Brian Dutton admitted to being frustrated as the Saddlers let slip a one-nil lead to take just a point from their trip to the Lamex Stadium.
Taking the lead with less than a minute on the clock, the Saddlers held onto their narrow lead until the 70th minute, some fourteen minutes after midfielder Liam Kinsella had been given his marching orders for a foul on Jack Aitchison.
With many on the Stevenage bench baying for blood, referee Antony Coggins produced a straight red card, reducing the Saddlers to ten men - a decision Dutton believes the official got wrong.
Speaking to the assembled media, Brian said; "I look forward to VAR being introduced in League Two. Once they look back on that and give themselves time to breathe and weigh the decision up, they'll see that Liam Kinsella's foot is down.
"It's a one-footed tackle. His momentum takes him through and it's a yellow card. All the commotion from the players and the opposition coaching staff - they do influence referees at this level.
"Sometimes you just need to take a step back and give yourself a bit of time. But they're human beings and they make mistakes just like we make mistakes."
The former Development Coach, who was taking charge of his second game since replacing Darrell Clarke in the hot seat, then went on to admit he is likely to appeal Kinsella's dismissal, but doesn't expect to see it reversed.
Dutton continued; "We can appeal it but I can't see it getting overturned to be honest. The referees can hide behind the momentum and the force of the tackle. On another day, and on reflection, it's a yellow card."
Going back to talking about the match as a whole, the gaffer admitted his tactics hindered the team before looking forward to taking more time on the training pitch to improve upon defensive shape and making better use of their time on the ball.
Brian added; "We came for three points, that was the target. With the early goal we wanted to kick on from there and get the second and third, but to be fair to the lads my tactics weren't helping them.
"We weren't able to press the ball how we'd like to, I put that down to not having enough time with them at the minute. A lot of the work has been on attacking play and not a lot on the defensive aspect.
"That's something we need to remedy. We changed the tactics half-way through the first half and I thought that helped us but the game got turned on its head with the sending off. It was then a case of showing desire and digging in and I thought they had that in abundance."